First look at the Nvidia Shield 2017 – Review & Details #TechUKTV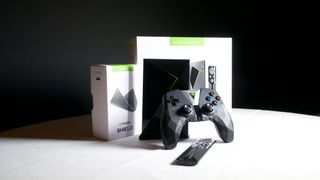 Nvidia isn't changing much with its 2017 Shield TV. But the changes that the Santa Clara-based company is making – both to the design that's now 40% smaller & let's be honest it wasn't exactly big!, the decision to include a remote inside the box and Android TV – are going to make a world of difference especially for Kodi & Streaming users with a premium budget.
In that way it's best not to think of the next-generation Shield as the second incarnation of the device, but as a great half-step improvement for those just jumping on the 4K HDR streaming bandwagon or fed up of cheap "Kodi Boxes" crashing & generally being harder work than they could be.
But there's one small caveat to get out of the way before we start: Almost everything you read here – I'd say about 90% of it – is going to be available on the previous version of the Shield. The Android TV update, local and online streaming and heck even the new controller will all be available for the ol' 2015 Nvidia Shield. So if you can get an older one cheaper on eBay do it 😉 But don't tell Nvidia we said that…
OK, now that we've got that out of the way, let's focus first on the design of the system.
Design
The headline here is that it's 40% smaller than before, bringing it from about eight inches wide down to about five. It's able to shed some plastic by dropping the micro-SD card slot that used to hang out on the back and retail in only one hard drive size – 16GB. See we reckon you read that & instantly thought well that's small… But your current box is only 8GB & Trust us when we say that is way more than enough! Your streaming everything from TV to AAA Games! Not much is downloaded exept your build & addons.
Its diminutive stature actually makes the console smaller than the included controller, something which has also gotten a facelift for the new year.
The 2017 Shield TV controller is less bulky than its predecessor and much more angular. The surface of the controller is covered in a triangle pattern that, in some ways, makes the controller easier to hold in your hand. These new controllers won't offer the touchpad that you'd find on the ones that shipped with the original Shield, and that's because Nvidia said those were a holdover relic from the "web browser on your TV" craze.
But while the latest controllers say goodbye to the touchpad, you can still find a built-in microphone on each and every controller. That's used, among other reasons, to activate Google Assistant – a Siri equivalent built for Android devices.
Nvidia Shield with Google Assistant
We've seen Google Assistant on a handful of devices before – including the Google Pixel smartphone and Google Home – but this is the first time the company has allowed its AI to escape the confines of a Google-made product.
What makes having Google Assistant so special on the Shield is that it's always listening to you through the microphone on the controller. If you don't have the controller handy, the Nvidia Shield remote – formerly an optional accessory that's now getting packed into every Shield box – will work just as well by holding down the microphone button.
Want to see how your favorite sports team is doing? All you need to do is ask. Need movie recommendations? Google Assistant has you covered.
Of course one application of this is that the Nvidia Shield can now be the centerpiece of your smart home – thanks both to Google Assistant integration and a new product Nvidia showed off at CES called Spot that works like a smart microphone. Plug Spot into any outlet and the always-listening microphone can now control the Shield from wherever you are in the house.
Micro-console gaming and streaming services
But the real reason you should want to pick up the Nvidia Shield over, say, a Roku Premiere or Amazon Fire TV is because the Shield benchmarks above any device in the market & is without a doubt the smoothest experience of Android TV you can get ! There setting the standards for Streamers & Gamers. Hardware is stunning & the software is even better. Yeah people say it's too much money for what it is (A KODI BOX). But come on no one has ever said that who owns one have they. Unbeatable stuff.
Like the last iteration, the 2017 Shield will be able to play both Android TV games as well as titles taken from Nvidia's online streaming service GeForce Now.
During a demo of the new Shield, one of the guys from Nvidia demonstrated GameStream by streaming Titanfall 2 from their PC a few feet away to the Shield that was hooked up to the main TV in the room. Streamed gameplay looked smoother than it did on the original, though we still noticed a bit of screen-tearing here and there throughout the demo.
Once you're done with your game session, you'll probably want to kick back and binge-watch your favorite show or movie. To that end, expect some one notable improvement to the Shield platform in 2017: Amazon Prime Video. (Cough Kodi Cough)
By some way and we're not sure how, Nvidia got Amazon to agree to put a Prime Video app on the Shield – Amazon, the company who refused to sell Chromecast on its store because it "offered a less than ideal streaming solution".
That said, even if you're using the 2015 Shield you'll still be able to watch your favorite Amazon shows like The Grand Tour, Transparent and Mozart in the Jungle. (Cough Kodi Cough)
Early impressions
There's clearly a lot to like about the new Shield – though, admittedly, it might not be worth upgrading from last year's model if you're already using that as your primary streaming box.
That said, we really appreciated the streamlining of the controllers, the addition of Amazon Prime Video to Android TV and the integration of Google Assistant for the first time outside of a Google-made product.
Nvidia Shield 2017 will be available in the first part of 2017 & actually releases on Amazon & Nvidia Directly on the 16th of January and will cost £189 for the 16GB version of the device including the remote & is available on Amazon Prime.
Leave a comment let us know what you think & give it a share if you enjoyed the article every one counts
We're looking for Writers / Reviewers / Game Streamers for the website were a small group if you want to get involved or have something to share get in touch with us on Twitter @TechUKTV
Hope you enjoyed the read! Bet your looking at your m8s box and thinking it's time for an upgrade.