More screeners hit our Kodi Boxes this screener season! Here's the details. #TechUKTV
After weeks of anticipation, more pirated copies of awards screeners began appearing online this week. With leaked copies of Arrival, Hidden Figures, Patriots Day, Moonlight and La La Land, it appears that the pirate "screener season" is properly underway theve hit the Kodi Addons & are Available for download from all your torrent sites now.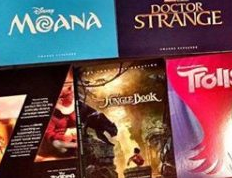 Towards the end of the year, movie screeners are sent out to industry insiders who have to cast their votes for the Oscars and other awards.
Usually, quite a few of these films start to leak on various pirate sites around Christmas, but this year it remained (increased risk & security is making it harder to get hold of the copies.)
In fact, it took until early January before the first pirated screener appeared. a copy of the Denzel Washington movie Fences.
While the slow start remains largely unexplained, it appears that at least some pirate groups have become a bit more cautious with their release strategies. The infamous Hive-CM8, which put out the lion's share of screeners last year, said it would no longer release any films before their theatrical release, for example.
Cautious or not, this week the screener ball started to get rolling again when five DVD screeners appeared online. 'Hidden Figures' and 'Patriots Day' were the first two to become available, followed by 'La La Land,' 'Moonlight' and 'Arrival' this weekend.
The copies were released and distributed by various P2P pirate groups, not just a single source. The most popular Arrival copy is tagged by the unknown group "4rrived," for example, and Hive-CM8 is also back in the game with screener copies of La La Land and Moonlight.
Arrival screener
A few weeks ago, Hive-CM8 said they were ready to release screeners and a few hours ago they uploaded their first copy of the year.
"Finally first quality release, we do think this is a hot title and we decided to share it with the public," the group writes in the release note of La La Land.
While some people believe that the group already has access to additional disks, they are still in the market for more material. They hope that insiders with access to screeners are in a sharing mood.
"We are looking for the guys sitting at home with all the 30 discs and posting pictures all over the net, but not sharing with anyone. Not sure why you are hiding it can be done safe and secure, for private viewing only if requested. Just msg us if you need help, we dont bite."
Kodi users & Pirate watchers will certainly welcome all the activity, but it's unlikely that we'll see a leak-fest similar to last year. Not from Hive-CM8 at least, who say that they don't plan to share everything they have with the public this year.
It will be interesting to see how many screeners will leak during the weeks to come. With five releases so far this year, the leaked screener count is still at an all time low for now.
I'm sure we don't need to say this but have a read over at http://KodiUK.TV for guides & info on watching these on your favourite addons & Devices.
Available in all major torrent sites & across the kodi community! Exodus of course is a place you need to visit if your wanting to watch.
——————————————————————
Credit to TorrentFreak for article info – All credit goes to them we adapted and posted for our readers only.
Give us a share guys we'd really appreciate this. We do this for you & want to share as much as we can! Every share counts.
Follow us on Facebook via http://Facebook.com/techuktv
#TechUKTV